CryptoGames is a cryptocurrency casino that is renowned in the gambling world because of its excellent service and dedication towards gambler satisfaction. MuchGaming B.V. owns and operates this Curacao-based crypto casino.
CryptoGames offers a plethora of cryptocurrency options that range from Bitcoin, Etheruem, and Litecoin to altcoins such as Monero and Stratis. CryptoGames is one of the licensed casinos and is fully regulated by the Curacao government.
The casino is an elite gambling casino that tries to maintain a dominating position in the world of gambling through its multitude of excellent services and always providing quality entertainment to its users.
By the result of hard work and dedication of its superb group of administrators and moderators, CryptoGames has earned the respect of the gambling community and is becoming the first choice of ardent and devoted gamblers all over the internet.
A Small Glimpse into the CryptoGames Casino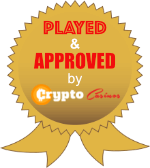 Players can prefer to deposit or withdraw with any of these cryptocurrencies – Bitcoin, Ethereum, Litecoin, Dogecoin, Bitcoin Cash, Dash, Gas, Monero, Ethereum Classic, and Stratis. Despite having a multitude of options, users can still deposit many other altcoins as CryptoGames had integrated a third-party automatic exchange system known as CoinSwtich.
The casino also offers eight excellent old school games, which are extremely popular amongst both veteran and novice gamblers. These games also come with numerous guides and tutorials so users can learn and master them at an impressive pace. Moreover, the site has a user-friendly interface which is extremely easy to navigate even for users who are visiting the site for the first time. The active chat box allows gamblers to socialize with each other and show off their impressive winnings.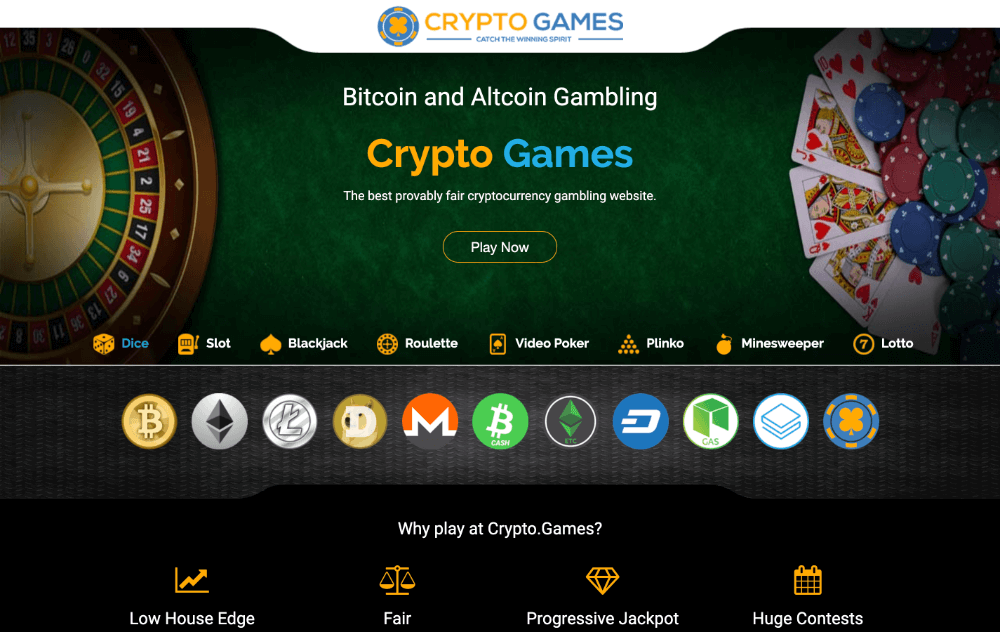 A simple interface, along with a lightweight design:
CryptoGames has a user-friendly interface and a neat design that gives the site a stunning outlook. Users can endlessly browse the website without any complications. The game's interface is super smooth and runs flawlessly even in devices with low specifications.
Gamblers can easily switch between games and currencies with just a click. Different tabs can be seen where statics such as bets currently being place, total bets played, betting history, and so on can be found. Users can customize the look of the casino through the settings which can be found under the "Your Account" option.
A wide range of themes can be seen, giving a new look to the casino. There is a remarkable "Dark Mode" which can be easily accessed by clicking the "moon-shaped" button. All vital information such as FAQs, Chat Rules, and Support Link is situated near the bottom of the page. A twitter widget can also be seen, keeping all the gamblers up to date about the casino.
The Registration Process and User Account Protection
One of the most impressive features about CryptoGames is its automatic account creation feature that generates an account for someone when they first visit the site. Users only have to accept terms of service to gain access to the player account. Players have access to "Play Money" or the faucet which they can use to test out the casino.
After this, users can choose to secure their accounts by adding an email address and a password. Further options of security can be enabled by adding Two Factor Authentication, which, if allowed, is mandatory for the withdrawal of funds. Even if the feature is disabled, email verification is obligatory for the extraction of user cryptocurrencies.  All of these security protocols show how much the casino is dedicated to safeguarding user accounts.
Supported Crypto Currencies
CryptoGames currently supports ten different cryptocurrencies – Bitcoin, Ethereum, Bitcoin Cash, Litecoin, DogeCoin, Ethereum Classic, Stratis, Monero, GAS, and Dash. Users can utilize any of the provided options to make financial transactions.
CryptoGames also has a currency of its own known as "Play Money," which users can use to try out different techniques and strategies. This feature is a blessing for users at CryptoGames as it allows them to test their potential without upsetting their user funds.
Seamless Deposits and Withdrawals
CryptoGames accepts deposits and withdrawals made with any of the ten cryptocurrencies mentioned above. An option called "Deposit" is located on the top right side of the screen under "Your Account," and pressing on it generates a deposit address through which deposits can be made almost instantly.  The page that opens up also contains detailed information about the wallet address and deposit history.
Withdrawal of coins is also a straightforward and straight forward task that requires little to no effort. The withdrawal address is set by pressing on the "Withdraw" option under "Your Account." The network fee can also be adjusted by moving a slider. The current status of the ongoing withdrawal, along with detailed information about previous withdrawals, can be found in the history tab.
Withdrawals are instant but may sometimes take an hour due to security protocols in cases where users are abusing features or somehow trigger the security flag. A great feature of the CryptoGames interface is the "Emergency Withdrawal Address" option, which allows users to set it from the settings. This address can be used in dire cases, such as when the user cannot be contacted.
Integration of CoinSwitch:
One of the most impressive feats of CryptoGames is the integration of CoinSwitch into its system, which allows users to deposit and withdraw altcoins that are not supported directly by the casino. CoinSwitch automatically converts the altcoin to a type of cryptocurrency backed by CryptoGames. Similarly, when users want to withdraw some specific altcoin, CoinSwitch automatically converts the coin to the class the user desires.
Library of Fabulous Games at CryptoGames
CryptoGames has a library of 8 old-school games that are immensely popular within the gambling community. The games are Dice, Slot, Blackjack, Roulette, Video Poker, Plinko, Minesweeper, and Lotto. There are also detailed guides and tutorials provided with the games so users can learn and master the games as fast as possible. The excellent interface allows for flawless gameplay without issues. A short review of each of the games is given below:
Dice:
Dice is a viral old school game that has existed before the application of the internet into our daily lives. People love this game, as it is straightforward to learn and master. Here, a number is rolled that varies from 0.000 to 99.999, and the player has to ascertain if the number is lower or higher than the number mentioned above. CryptoGames also allows the rolling of the Dice through keyboard shortcuts.
There is also an impressive feature called "Auto Bet," where settings can be tweaked according to the user's desire, and bets will be made automatically.  The game of Dice is often an intense game where the greater the risk, the higher the profit. Currently, a maximum profit of 6 BTC can be made in one single bet.
Slots:
Charles Fey invented the first slot machine in San Francisco, California, in the year 1984.  Starting from that year, the Slot games have become immensely popular within the gambling community. The game at CryptoGames is played on five reels that spin back and forth before coming to a complete stop.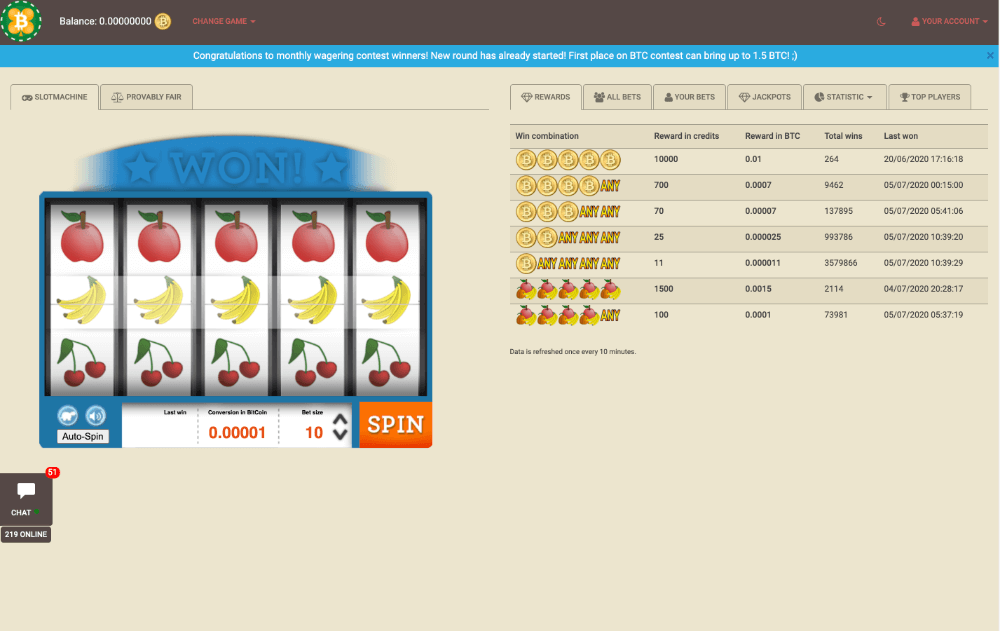 If five predetermined symbols line up in the middle, then the winner is decided. CryptoGames offers "single line" slots which have a horizontal pay line. A maximum of 5 BTC can be claimed if the user manages to hit the slot jackpot.
Blackjack:
Blackjack is the American version of the famous global banking game renowned as Twenty-One. The game involves one or more players, and a dealer compares their cards. Players compete to gain a hand that possesses points closer to 21 than the banker. There are options to Surrender, Double Down and Split. A total of four decks are used and shuffled after each hand. If the gambler hits the Blackjack, it pays at 6:5 and is also paid for split hands.
Roulette:
CryptoGames version of Roulette is a European version of the game. Before the ball is dropped in to the wheel, users have to place bets by stacking chips on the betting tab. After placing the bets, players can spin the wheel by clicking on the "spin" button, and the payout table is used to pay the user.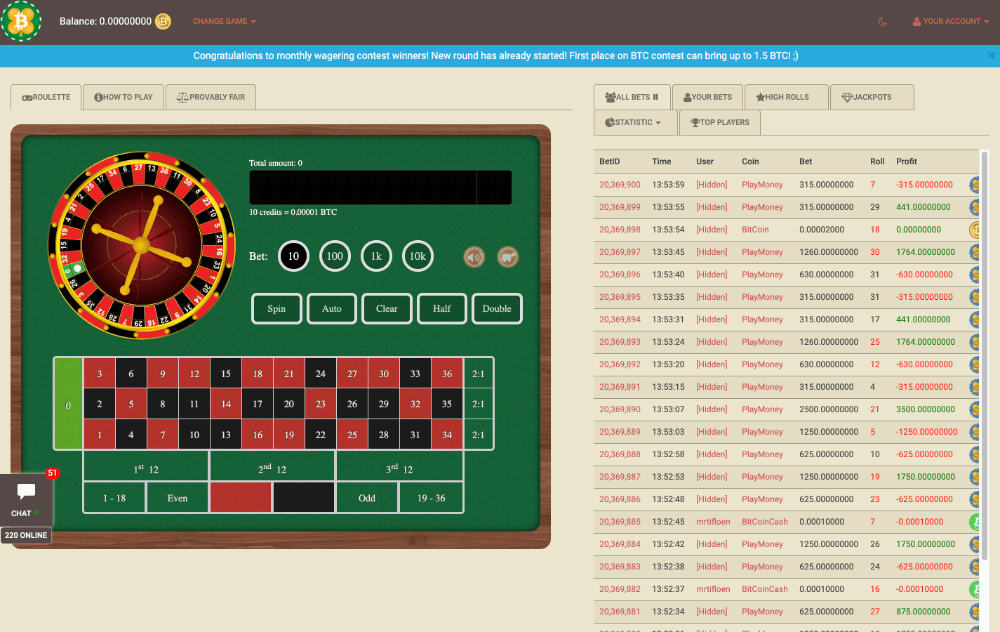 Video Poker:
The popular game Video poker originated from the traditional game of five-card draw poker. The game is played on a computerized console that resembles a slot machine. CryptoGames consists of three variants of this entertaining game, namely Jacks or Better, Tens or Better, and Bonus Poker.
Customers can toggle between their preferred games using the options available in the top left corner of the game board. In the case of a Royal Flush, there will be a payout multiplier of 500 where the user can win a maximum of 6BTC through one single bet!
Plinko:
Plinko is one of the most delightful and beloved games in the online gambling community. CryptoGames offers a straightforward version of Plinko. Users choose an amount to bet and can select the color of the ball they wish to drop. When the "Play" button is clicked, the ball is dropped through a pegged pyramid, and it falls until it reaches the bottom. The user is paid according to the payout at the bottom of the table where the ball arrives.
Minesweeper:
The game known as Minesweeper was created in 1960 and, since then, has become a favorite game in the gambling community. The game requires users to click on boxes while avoiding collision with mines. The higher the number of boxes clicked, the higher the reward. The profit derived from the game can be increased by increasing the difficulty and uncovering more boxes. It can be also be achieved by increasing the number of mines.
Lotto:
The lottery is the prehistory of testing one's luck through purchasing tickets. Lotto originated from the lottery. Players can buy tickets using the "Buy Tickets" tab. The tab also contains information about the total number of tickets purchased by the user along with the win probability.
CryptoGames returns 100 % of revenue generated from ticket sales to the winners, which means the casino derives zero profit from this game and gives everything back to the players. CryptoGames hosts two draws bitcoin lottery every Saturday and Wednesday, where three winners are announced. Altcoin lottery takes place once a week.
Progressive Jackpots:
The games Dice and Roulette at CryptoGames have enormous jackpots that have attracted the relentless attention of many ardent gamblers who would love to claim these huge prizes! Players have to meet specific criteria to claim the jackpot. If the requirements are met, the player will receive a percentage of the jackpot ranging from 1 to 100 percent, depending on the amount they wagered. The current bitcoin jackpot is standing at a staggering 3.809 BTC!   
Fantastic House Edge of the Games:
CryptoGames has a very competitive house edge. Dice has the lowest house edge of only 0.8%. Lotto has 0% house edge, and all revenue generated goes to the winners. All other games have reasonable house edges giving users fabulous odds that they can capitalize on.
Provably Fair Games
Provable fairness is a system where users can verify their bet results through cryptographic measures, thus ensuring the casino did no manipulation of bets. CryptoGames is renowned for providing Provably Fair games. The casino also provides a detailed guide for novice crypto gamblers on how to verify bets using seeds and hashes generated along with a video tutorial.
CryptoGames also uses RandomPicker, a third party website that utilizes anti-cheating measures to maintain absolute fairness in all lottery draws. Thanks to Provably Fair technology that all data are publicly available for player verification.
Chatbox, Rain and the Faucets
The chatbox allows users to socialize with each other, bring gamblers from all corners of the world together, and helps to form bonds. Users can also tip each other with cryptocurrencies or lottery tickets. Users can also host games via various commands. The "Rain" feature gifts free coins to active users on the chatbox for their contributions. A group of users moderate everything going on in the chatbox and maintain order and discipline.
CryptoGames grants incentives called faucet, which users use to test their techniques and strategies without using up their funds. The level of faucet can be raised by completing a set of specific tasks. The users who have higher faucet levels can claim a more significant number of coins.
Users can claim up to 6,150 satoshi or equivalent altcoin at the maximum level of the faucet. The level-up system adds extra fun while gambling. Again, users with a higher-level receive cool military ranks to show off on their profile.
CryptoGames Bonuses and Promotions
CryptoGames is extremely popular in the gambling community for its unique promotional events, which grant users multiple opportunities to win free rewards! These promotions allow gamblers a multitude of chances to claim remunerative rewards such as free coins, voucher codes, and lottery tickets!
A particular "No Bet Speed Limit" is held every Monday, which allows users to claim a higher number of coins as a more significant number of bets per second can be placed without any speed restriction. Promotions are also offered via social media channels and the Bitcointalk forum.
Wagering Contests:
Every month, CryptoGames hosts wagering contests that are immensely popular amongst the gamblers of CryptoGames! These wagering contests become the battleground of ardent and talented players who would stop at nothing to win these remunerative competitions!
The winners of the games are rewarded with lots of lucrative prizes and are announced as champions of the month. Exclusive VIP tags are also presented to these champions, which give them access to particular site-wide advantages! The tags will stay there till the beginning of the next wagering contest, providing users with ample time to enjoy their winnings.
The following rewards are available for the players, which may be subject to future change:
Bitcoin: 3.84 BTC and 828 lotto tickets are split between 10 winners based on their position
Ethereum: 21.80 ETH and 828 lotto tickets split between 10 users
BitcoinCash: a total of 5 prizes that accumulates up to 18.5 BCH
Dogecoin:

 

975,000.00 DOGE and 320 lotto tickets cut between 5 users
Litecoin:

 

42.50 LTC total bonuses and 790 lotto tickets distributed among seven users
Dash: 18.50 DASH given to top 5 users
Ethereumclassic:

 

185.00 ETC

 

distributed between 5 users based on their position
NeoGas: 290.00 GAS total bonuses distributed among ten users
Stratis: 1,155.00 STRAT total bonuses distributed among five users based on their position
Monero: 23.30 XMR total rewards distributed among five users
24/7 Player Support
CryptoGames offers outstanding support to its community of users. The chatbox can be used as a Live Support where a moderator will always be there to assist users with their problems. Support can also be reached through email, and assistance will be provided within an hour. CryptoGames has a 24/7 active Support Team, which means they are available even during weekends. Users can also create a support ticket through the Zendesk support page.
Ethical Practices and Well Being of Clients
CryptoGames has taken significant steps to sure the completely equal and unbiased treatment of its community of users. CryptoGames refuses to see its users only as a source of income and considers them an invaluable part of the casino itself. It cares deeply about the users well being and has taken steps to ensure gamblers participate in responsible gambling.
If users ever feel like they are spending too much time on gaming, there is an option called "Self Exclude," which will temporarily lock their accounts, preventing them from gambling for a set time. Users can also have their access to the site permanently blocked by contacting the administrators through support.
To Play or Not to Play
We have given CryptoGames an excellent ranking based on its outstanding features and its strict stance on ethical gambling. The casino has adopted multiple measures to ensure gamblers can engage in their favorite activity making maximum profit and relishing top-notch entertainment at the same time.
Its user-friendly interface makes navigating through the site a smooth and effortless process. The efficient deposit and withdrawal options enable swift and smooth transactions and maintaining a seamless flow. Advanced security protocols ensure top-notch security for valuable user funds.
The monthly wagering contests provide gamblers an opportunity to compete against each other and test their potential. Numerous promotional events present users with a plethora of chances to win free coins and other lucrative rewards. It is a casino we would recommend for both novice and expert gamblers.